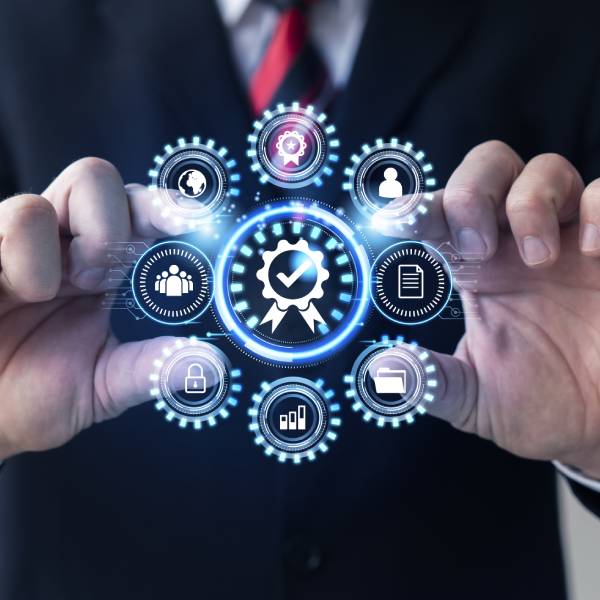 What is ISO Certificate?
The International Organisation for Standardisation is known by the initials ISO. A firm or organisation can demonstrate compliance with certain international standards in a number of areas of its operations, including quality management, environmental management, information security, and occupational health and safety, by obtaining an ISO Certificate, a certification that is widely recognised. An recognised certification authority conducts a thorough review procedure before awarding the ISO certification. It indicates the company's dedication to providing high-quality goods or services, fulfilling client needs, and consistently enhancing its operations. The credibility, competitiveness, and confidence of the organisation among stakeholders, such as clients, partners, and regulators, may all be improved by having an ISO certificate.
Process of ISO Certificate:
Find the appropriate ISO standard for the sector or emphasis of your organisation, such as ISO 9001 for quality management or ISO 14001 for environmental management.
To align your business with the requirements of the selected ISO standard and implement the necessary adjustments and enhancements, create a thorough implementation strategy.
Implement planned modifications, update policies and procedures, and record processes to make sure they adhere to the standards of the ISO standard.
Conduct an internal audit to see whether established procedures are effective and compliant with the ISO standard, finding any gaps and determining where improvements may be made.
Perform an internal audit to determine whether current practises are successful and in compliance with the ISO standard, identifying any gaps and identifying potential improvement areas.
Benefits of ISO Certificate:
Better Market Reputation: ISO certification improves a company's market reputation by highlighting its dedication to reliability, safety, and quality.
Expanded Market Reach: As ISO certification guarantees standardised procedures and quality, it opens doors to new markets and clients, both locally and globally.
Enhanced Customer Trust: Customers are given trust by ISO certification, which assures them of constant quality, dependable goods and services.
simplified Operations: ISO standards encourage effective procedures, simplified business processes, and increased productivity, which reduces costs and improves resource efficiency.
Culture of Continuous Improvement: ISO certification encourages staff to actively participate in identifying areas for improvement and putting forth remedial actions. This culture of continuous improvement is fostered throughout the organisation.
Regulatory Compliance: By aligning ISO standards with regulatory requirements, organisations are guaranteed to follow all applicable laws, rules, and standards related to their business.
ISO Certificate Rules
The International Organisation for Standardisation (ISO) has established rules and specifications for acquiring and maintaining ISO certification. These regulations are referred to as ISO certificate rules. These guidelines lay out the steps, standards, and paperwork businesses must submit to prove conformity with certain ISO standards like ISO 9001 (Quality Management System) and ISO 14001 (Environmental Management System). The regulations often contain procedures for carrying out internal audits, putting remedial measures into place, keeping records, and submitting to recurrent external audits by recognised certifying authorities. Following these guidelines makes it possible for organisations to get and maintain their ISO certification, demonstrating their dedication to quality, safety, and environmental sustainability, and to fulfil the required criteria.
FAQ:
How long does it take to get ISO certified?
Info Shri
2023-05-24T06:08:37-05:30
An organisation achieving ISO certification means that it complies with globally recognised standards in a number of areas, including quality management, environmental management, information security, etc. It gives you a competitive advantage in the market, increases your reputation, and increases client trust.
Documents Required for ISO Certificate
Quality Manual
Procedures
Work Instructions
Policy Documents
Records and Forms
Process Documentation
Risk Assessment and Management Documents
Internal Audit Reports
Management Review Meeting Records
External Communication Documents
Great benefits from Shri Associate
We ensures smooth setup of your business in terms of company registration.

We ensure that the process of finalizing the name till receiving Incorporation Certificate is on time with accuracy in documents that needs submission.

We stay with you and guide you in the general working of your organization

Excellent Customer Support